15Five: Improvements to 1-on-1s
the Problem
1-on-1s is a feature that was designed in a short time frame as an experiment, looking to understand if customers would adopt and use it consistently. After receiving overwhelming positive feedback, we embarked on a process of further understanding customer needs and identifying areas for improvement.
My Role
Customer research • Requirement definition • Design
Research Phase
20 Customer Interviews
I conducted virtual interviews with 20 users who actively use the 1-on-1 feature within some of our largest customers, gathering their qualitative feedback to inform our decision making and prioritization of improvements.
High level insight
Making people accountable and ensuring everyone is on the same page is at the core of SMB operational challenges
difficulty Navigating between 1-on-1s
No business is built the same. their operations will vary dramatically from one to the other; there is no rule book or easy answer on Google.
1-on-1s are Too manager-centric
Communication 'protocols' are all over emails, text messages, post it notes, etc. It is hard to stay on the same page.
Lack of accountability
Within 1-on-1s we've created an action item feature, in which managers and direct reports can add specific action items for them to do after the meeting.
Tehcnology
Owners and managers often have a different relationship with technology. i.e. Not all staff have smartphones.
Staff Management
Building relationships & good communication with staff is important to managers but it requires lots of time and energy, making it overwhelming.
Information Overload
Business owners are constantly receiving information from many different sources, without much control over it.
Product Development
25 prototypes for 25 businesses
To develop the ideal feature set, we performed over 25 user testing sessions testing over 15 iterations of the product. Based on the feedback from these sessions, we were able to develop the final feature set for Townsquared My Business.
The solution
Creating a Slack for Small Business
From over 25 prototype testing sessions where we tested a large spectrum of features, we identified the minimum features that would provide small businesses with the operational value they're looking fro this product. First version of this product is currently in Beta.
Topics & DM's
The ability to create multiple chat rooms under specific topics.
The Chat
Spaces where staff share/find information based on what topics they've been invited to.
Tasks
The ability to create and assign tasks and be notified when tasks are completed.
Case Study #1
' Important' messages & tasks
challenge 1
Managers constantly worry about sending their staff too much information, worrying that they will miss the most important information.
challenge 2
Managers cannot require staff to download an app, as many staff don't have smart phones. Text messaging is the lowest common denominator.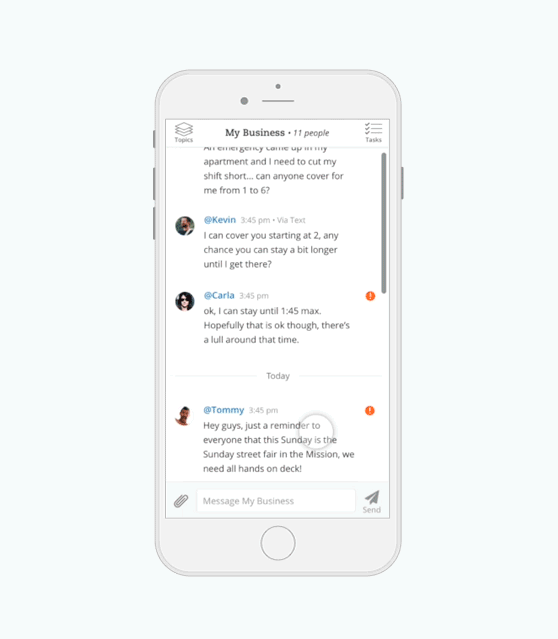 Marking messages as important
Making sure time sensitive information is read first.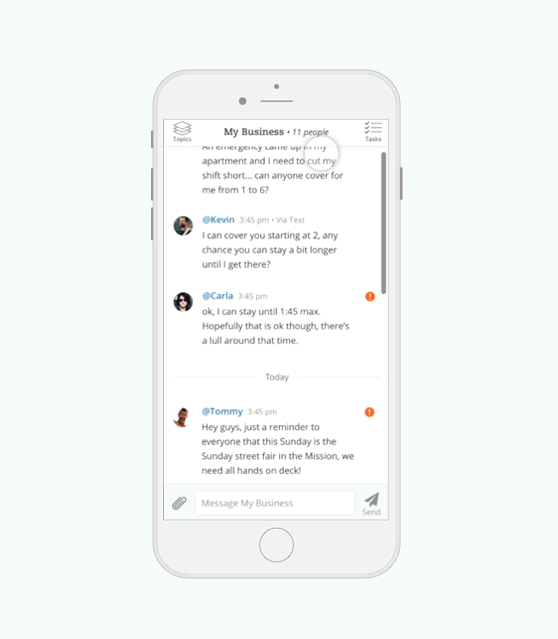 Marking tasks as important
Making sure staff know what to do and when they need to do it.
challenge 1
Because it cannot be a requirement for staff to download an app, we consider that this software lives primarily in the staff computer; signing in and out needs to be very easy to have proper identity management.
challenge 2
This implies a change in staff workflows, for which we chose a log in interaction that can happen seamlessly at the moment of clocking in and out.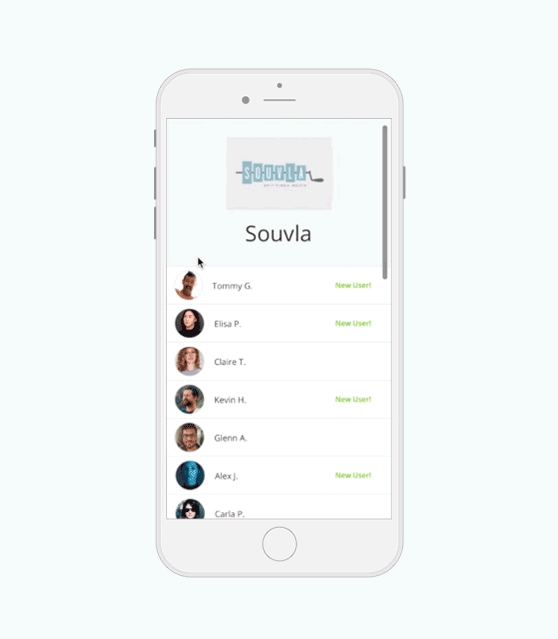 Using familiarity to other business softwares to engage staff
Next Steps
Ongoing smaller improvements based on MVP feedback.
As we learn from the MVP and get feedback from beta users, we will continue to add smaller improvements to the product, such as the Topic Creation Flow, which was not included in the first phase of the MVP.
Making sure managers are organizing their conversations how they want to.
Adding and removing the right people from your team.
Next Steps
Integrations
In order for Townsquared to become the SMB dashboard, we will need to allow integrations to other software to be overlayed into this communication platform.